WILPSHIRE


Wilpshire -shown within Lancashire.
Wilpshire is a village and civil parish in the county of Lancashire, England. It is 2.5 miles (4 km) north of Blackburn, and is in the Ribble Valley local government district. In the 2011 United Kingdom census, the parish had a population of 2,582.
The village is situated on the A666 Whalley Road, between the Brownhill area of Blackburn and the village of Langho.
The local railway station is Ramsgreave and Wilpshire, on the Ribble Valley Line with train services to Blackburn, Manchester and Clitheroe.
The only pub in the village is the Wilpshire Hotel, with the Bonny Inn close by in Salesbury.
Wilpshire Golf Club is a private golf club in the village, was founded in 1890. Originally it was a nine hole course but extended to an eighteen hole course in 1907.
Wilpshire Wanderers is a junior football club that runs teams from Under 5 up to Under 16.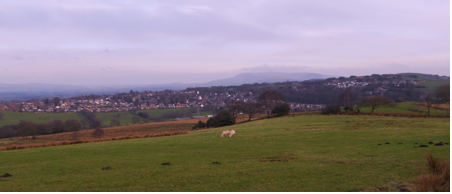 1.     Wilpshire and Clayton-le-dale from Ramsgreave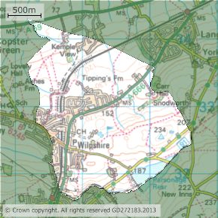 Wilpshire Parish boundary
-touches Salesbury, Clayton-le-dale, Ramsgreave and Billington & Langho.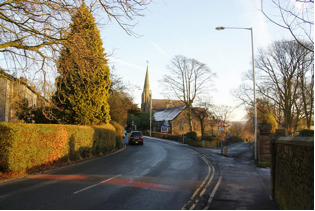 2.   Wilpshire Methodist Church-Ribchester Road
Wilpshire has some wonderful countryside and an excellent Public footpath network.
A suggested walk around the heart of Wilpshire spending an enjoyable hour or two in doing so is to start from the Wilpshire Methodist Church on Ribchester Road and then walk down Knowsley Road taking the Public footpath on the left at the bottom that takes you underneath the railway and upto the A666. Walk in the direction of Blackburn for some 50m or so and taking care with the traffic cross the road to head uphill via the Public footpath eventually coming out onto Hollowhead Lane opposite the Public footpath that crosses Wilpshire Golf course and Wilpshire Moor.
Be watchful of unskilful golfers and make your way as far as Little Snodworth perhaps taking in the view from the bench provided by Wilpshire Parish Council at the eastern end of the golf course.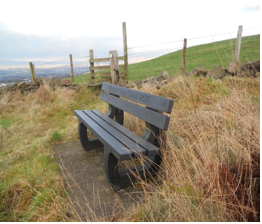 3.   Wilpshire Parish Council bench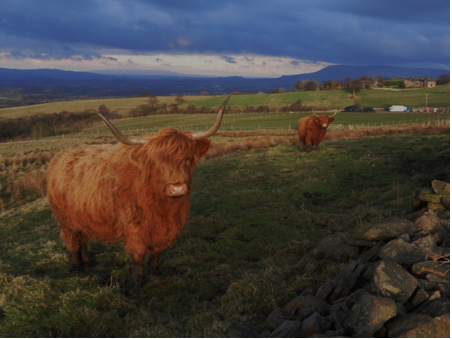 3.    West Highland Cattle on Wilpshire Moor (with Pendle Hill in the background)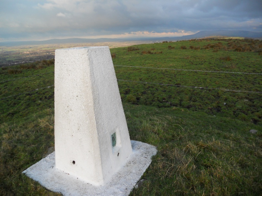 5.    Highest point in Wilpshire-OS Trig Point on Wilpshire Moor-235m
The walk continues by descending to Carr Hall- continue to the A666 and left along this main road descending once again via Sunnyside Avenue to the bridle path adjacent to Tipping's Farm which is followed round and eventually over the railway bridge and on up to Vicarage Lane and then back to the Wilpshire Methodist Church.
(Persons unfamiliar with the area should use the West Pennine Moors map 1.25000 scale)
Wilpshire Statistics
Population – 2,582 (2011 Census)

Wilpshire Parish has approx 1100 households

OS grid reference
SD685325
District
Ribble Valley
Shire county
Lancashire
Region
North West
Country
England
Sovereign state
United Kingdom
Post town
BLACKBURN
Postcode district
BB1
Dialling code
01254
Police
Lancashire
Fire
Lancashire Fire & Rescue
Ambulance
North West
UK Parliament
Ribble Valley
Sources-Adapted from Wikipedia and other internet.